What are composites?
A composite is a synergistic combination of two or more physically distinct materials. The properties of the composite material are superior, and possibly unique in some respects, to those of the individual constituents. This provides the main motivation for research and development into composite materials. Reinforced polymeric composites consist of three main elements:

the reinforcement

the matrix resin,

and the interface between them.
The matrix has to transfer loads between the reinforcement fibres, protect fibres from aggressive environments, support the fibres in compression, and provide adequate toughness to minimise damage initiation and growth.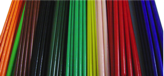 Why thermoplastic composites?

Conventional composites have a thermoset resin matrix such as epoxy or polyester. Thermoset resins are inherently brittle, and are formed by a chemical reaction and as such cannot be remelted or reformed once set. In contrast, thermoplastics, such as polythene, nylon, and polypropylene, are tough and can be remelted. Thermoplastic composites possess the same fibre dominated properties as conventional composites but with the following benefits:

The fibre volume fraction can be varied across the section from 0 to ~65%- this is not possible with conventional technology

greater component robustness due to the tougher matrix

improved environmental tolerance properties

the ability to post form and weld the material

raw materials are cheaper and have a much longer shelf life than conventional composites

potential for rapid process speeds

Eco-friendly composites-use of recycled/reclaim, no use of solvents and are recyclable

greater variety of matrix/fibre combinations and fibre volum fractions available to give your profile the exact

physical and mechanical properties your application requires



Why Jonam Composites?
Jonam Composites Ltd has developed process technology to reduce the high manufacturing costs and enable utilisation of lower cost forms of thermoplastic polymers to enable the wider use of composite materials. In the past the high melt viscosity of thermoplastics has led to processing difficulties in coating the fibres. Jonam Composites has engineered appropriate solutions and have developed innovative technology to meet industry's needs. The technology will allow the development of more efficient products, new products for new markets and im
prove the range of products for existing markets
More information on composites
Do you require further information on composites? We have compiled a list of interesting texts from general composite guides to more specific areas of interest. Please visit
our composite store
for more information or to buy online. Composite gifts are also available.