Jonam Composites have provided thermoplastic composite technology, profiles, and prepreg tape to many markets for a wide range of applications. Thermoplastic composites are extremely versatile especially due to the wide range of plastic matrices available, their robustness, and remouldability. Look below for some examples of the markets we have already served:
Off-shore
Building
Sports and Leisure
Aerospace
telecommunications
Thermoplastic composites offer the great potential of quick cycle times as no cure cycle is involved- prepregs are just laid up, heated/consolidated in the mould, cooled- That's it!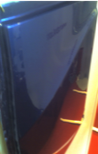 Glass fibre reinforced PBT/ PC blend prepreg tape moulded into body panells and passed through the E-coating process giving a uniform finish with other components
recycled PP/glass profiles chopped and remoulded to form a robust panel
Thermoplastic composites can be recycled and re-used. This makes them ideal for meeting the recycle-ability targets.

Glass fibre reinforced PP is being trialled for structural and internal applications
Harsh environment Many thermoplastics such as PEEK and PPS have excellent resistance to very harsh environments. Jonam composites can also coat a composite profile with the resistant polymer during the pultrusion process to provide an integral coating to protect the reinforcing fibres.

Need very long cables?
The length of a reinforced cable is ultimately only limited by the length of reinforcement fibre on a bobbin- currently 18km