Eco-Rods: coated thermoplastic composite rods made from recycled plastic
Eco-rods are solid rods with a strong thermoplastic composite core
and a durable thick plastic coating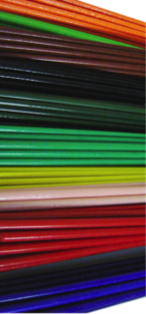 Made from recycled polypropylene copolymer and E glass fibres

Richly coloured;

red,

blue

,

bright green

,

yellow

,

dark green

,

terracotta brown

, black, and now

pink

- colours can be mixed and still eligible for bulk prices, Fluorescent Orange and Fluorescent Green are available to order at 20% extra. Glow in the dark will be available soon.

maintenance free

A 1.5mm thick polymer coating prevents splinters

Coating welded to the strong core in a single process to form a and will not peel off.

Very robust weather-proof, won't rot, can't rust, and don't split

Eco-friendly: 98% of the plastic used is recycled

Available ex stock in 3 diameters: 8mm, 10mm and 12.5mm

Available to order in 5mm diameter

Non-conducting to heat and electricity (except black)

polymer is fully UV stabilised to ensure longevity

More robust than conventional fibreglass

Can be manufactured to length

Stock lengths from 0.45m/1½ft to 2.4m/8ft
Eco-rods available from stock
ANNOUNCEMENT:
Due to production difficulties in our temporary industrial premises stocks of 12.5mm diameter Ecorods are running very low. Please contact us by phone or e-mail to ensure availibility before ordering. We hope to in our new purpose built facility soon and will be able to replenish stocks soon. We apologise for any inconvenience caused.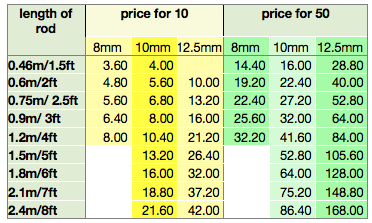 All prices in tables exclude VAT at 20%, the UK standard rate Remember to add postage and packing - Panda Stix are dispatched by overnight courier: Postage and packing is now £9.95 for the UK mainland for all orders under £100 and £4.95 for orders from £100 to under £150 . Postage and packing is free for all orders over £150 in the UK mainland. Please call for a quote for Highlands and Islands and elsewhere in the world.
Pick up can be arranged on request.Please note we cannot deliver to PO boxes
New! Eco-rods can now be bought online through Paypal just click on buttons below


Further Payment options:
For UK orders please remember to add VAT @ 20%. Most debit and credit cards accepted, cheques should be made payable to Jonam Composites Ltd. Payment can also be made by BACS or Paypal by arrangement. Please contact us for more information.
Please contact us before ordering 12.5mm diameter Visibilistix. Telephone +44 (0)1623 824267 or
e-mail
us
Please contact us before ordering 12.5mm diameter Visibilistix. Tel: +44 (0)1526 860023 or
e-mail
us


If you require a VAT invoice just ask.

Eco-rods are available in

red
yellow
blue
bright green
dark green
brown
black
from stock

and
fluorescent green
and
orange
by order