Thermoplastic composite profiles and prepregs
Jonam Composites Ltd has developed a range of processing techniques for the economical manufacture of continuous fibre reinforced thermoplastic composite products with the aesthetics of a plastic extrusion and the mechanical performance of a traditional fibre reinforced pultrusion.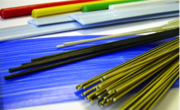 NEW SERVICE

We now make our stock and MTO prepregs into panels. We offer a range of fibre/matrix combinations with lay-up configurations from stock. Other combinations and lay-ups available to order.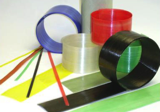 Stock Prepregs

MTO prepregs

prepreg in a range of colours

Tow-pregs to spec

Prepregs to spec

Material and design options

Jonam Composites Ltd's novel technology allows an unprecedented choice of material selection and design options to ensure the optimum solution to your requirement:

fibre type: we are experienced in using various types of carbon, aramid (Kevlar, Twaron) and glass and combining them within a profile or sheet

fibre volume fractions from 35 to 60% Vf

polymer type- anything from polyethyene,

recycled polypropylene

through polyamides and thermoplastic elastomers to PEEK

additives such as colour, UV stabilisers, coupling agents, and conductivity promoters can easily be incorporated

protective and aesthetic polymer coatings, and glass-fibre surface veils can be part of the design

SMART composites sensors, wires, cables, and optical fibres can be inset into the profile on-line during manufacture
These options are applicable to all the products we produce.






Processing Technology Options
Jonam Composites can offer two different routes to manufacture profiles to ensure the most cost-effective and efficient method is used to satisfy the clients' requirements.
Via Commingled fibres
Commingled fibres are a precursor with the polymer matrix fibres and reinforcement fibres intermingled. As with all precursors they are only available in a fixed volume fractions, and limited range of colours, polymer types, additives etc. Although they offer less flexibility and are significantly more expensive raw material than those used with our melt technology they can be a cost-effective route for prototypes as the tooling is less complicated. Interested? Then please
contact us
for more details of profiles and quotes.
Via Melt Technology

Melt technology offers greater flexibility in terms of choice of polymers, colours and other additives, fibres, and their distribution. It also offers the most cost effective route for large scale manufacture due to lower raw material costs and greater potential functionality.
Jonam Composites also manufacture: